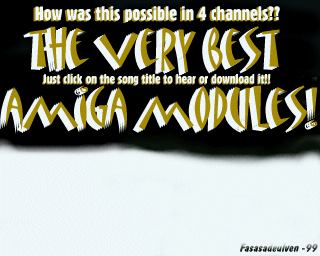 4-MAT:
AUDIOMONSTER:
70`s Reprise, Alcoholic Score, Canal Green, Daily Pleasure, Intro - Priority, Loverbreath, Melonmania, Modern, Options, Sonic, Streetgang, The Song & The War
BRUNO:
BST, Listen, Oppenheimer, Piano, Sonar, Stor Og Liten & Uralvolga
DR. AWESOME:
JESTER:
Crack The Eggshell, Lemonsoda, Nazgul, Machinery & Wizardry
JOGEIR LILJEDAL:
Nattarbeid
LISARDKING:
MOBY:
Bud Rap, Elecfunk, Fury Usine & Pelfort Blues
MR MAN:
Distant Call & Times The Remedy
PETER:
RHESUS MINUS:
SHORTY:
STROBO:
TIP:
Condom Corruption, Mannen Bak Skuret, Oasis & Supernatural
ICQ: 29 74 19 91
Feel free to make a link to my page!!
This ModRing site maintained by Fasadeulven.
[Back 2 Sites] [Previous Site] [Next Site] [Skip Next Site] [Skip 5 Sites]
Interested in joining? Go to the ModRing Homepage!